Guest Accommodations
Important Information
We cannot wait to celebrate with you! We have room blocks at the following hotels. If you have already booked a room, please call the hotel to update your reservation. We apologize for the inconvenience and appreciate your understanding! If you need any help finding a place to stay, please let us know.
Hyatt Place Bloomington
217 W Kirkwood Ave, Bloomington, IN 47404, USA
812-339-5950

Graduate Bloomington
210 E Kirkwood Ave, Bloomington, IN 47408, USA
812-994-0500
Use Code:
FTW09182020
Please book your room by September 4th using the code above to secure the discounted rate.
Travel and Transportation
Indianapolis International Airport
7800 Col. H. Weir Cook Memorial Dr, Indianapolis, IN 46241, USA

Located 50 miles north of Bloomington and the most convenient airport to fly into. Shuttle service, Uber, and rental cars are all available here.
The Go Express Shuttle is $24 each way and has drop off locations at Springhill Suites and the Hyatt Place. Please use this link to see the schedule and reserve online to guarantee a seat: https://www.goexpresstravel.co...
Bus Transportation to/from the Wedding
There will be transportation available to and from the wedding venue from the Hyatt and Graduate hotels. Please RSVP for a seat on the chartered bus and indicate which hotel you would like to be picked up from by going to the 'RSVP' tab on the top right of this webpage. Even if you have alternate accommodations, you are more than welcome to use the chartered bus! You do not need to RSVP for transportation back to the hotels. Please note - a mask will be required on the bus. We will update this page with the hotel pick-up times closer to the wedding date. Please let us know if you have any questions!
Things to Do
East Kirkwood Avenue

Indiana University's "main street" that connects the Downtown square to the Sample Gates, the entrance to IU's campus. East Kirkwood is home to some of the best restaurants and college bars such as Nick's English Hut, Kilroys on Kirkwood, Uptown Cafe, Village Deli, Cafe Pizzaria, Upstairs Pub, and so many more!
Explore Indiana University

After eating and drinking your way down Kirkwood, take a stroll through the Sample Gates onto one of the most beautiful campuses in the country!
Oliver Winery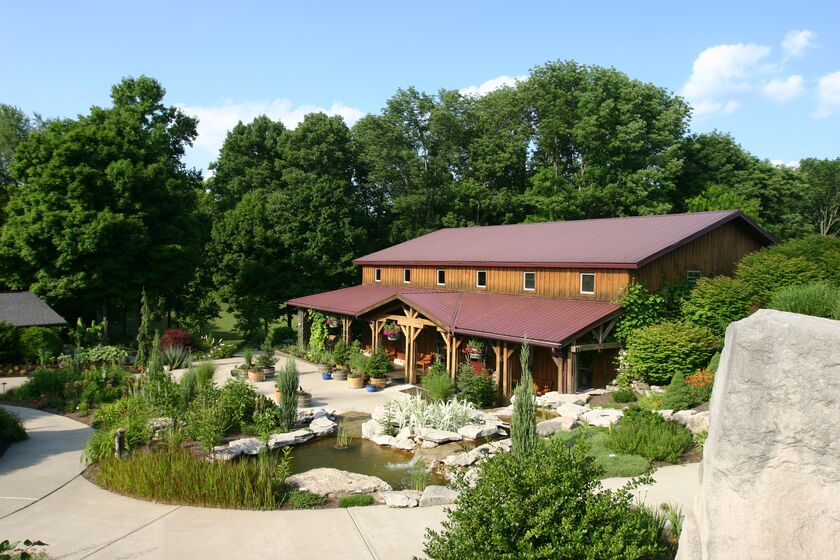 200 E Winery Rd, Bloomington, IN 47404, USA

One of our favorite spots!
Located about 9 miles north of downtown Bloomington, Oliver Winery is Indiana's oldest and largest winery. Tours and wine tasting available Monday-Saturday 10 am-6 pm. Be sure to try the Blueberry Moscato!
Walk the B - Line Trail
A paved 3.1 mile long former rail line that runs along Downtown Bloomington. It passes by some of the local favorites including Hopscotch coffee, Cardinal Spirits, Upland Brewery, and the Farmer's Market.
Bloomington Community Farmers' Market
401 N Morton St, Bloomington, IN 47404, USA

Open Saturdays 8am to 1pm
Locally grown produce, annual and perennial plants, and a variety of prepared foods are available. Listen to local entertainment while browsing, and experience Bloomington's casual atmosphere.

4th Street
Walk down 'International Restaurant Row' and explore a variety of ethnically diverse cuisine such as Thai, Turk, Tibetan, Indian, Vietnamese, Creole, and many other foods from around the world!
Eat & Drink
Runcible Spoon
412 E 6th St
A Bloomington staple -cozy breakfast spot near Kirkwood.
Village Deli
409 East Kirkwood Ave
A weekend breakfast tradition for the extra hungry!
Uptown Cafe
102 E Kirkwood Ave

Relaxed, upscale atmosphere serving American cuisine with a cajun/creole influence and craft cocktails. Their brunch is also incredible!
FARMbloomington
108 E Kirkwood Ave
All-day cafe with a funky vintage vibe known for its local foods with global flavors. Finish off your night in the underground Root Cellar Lounge, one of Bloomington's best kept secrets. Their weekend brunch is also a must do!

Nick's English Hut
423 E Kirkwood Ave
A Bloomington tradition that's been around since 1927. Be sure to play a round of the legendary 'Sink the Biz' while you're here!
Big Woods Bloomington
116 N Grant St
One of our favorite lunch spots for locally brewed beer and yummy apps. Their pulled pork nachos are a must try!
Upland Brewing Co.
350 W 11th St

A fun place to grab a drink and eat lunch on the patio! Also located on the B - Line Trail.
Trojan Horse
100 E Kirkwood Ave
This tavern has been a cornerstone of Bloomington since 1978. Located right on the square, stop in for all of your Greek and American favorites!
Janko's Little Zagreb
223 W 6th St
Open since 1973, Janko's Little Zagreb has become one of Bloomington's finest dining traditions with an old - fashioned dining room, red checkered tablecloths, and the best steaks in town.
Cafe Pizzaria
405 E Kirkwood Ave
A 67 year old family-owned establishment that has earned its distinction as the first pizza joint in Bloomington.
Mother Bear's Pizza
1248 E 3rd St
Another Bloomington classic - the best deep dish pizza in a very 'college town' atmosphere. Their salads are also a must with homemade dressing and goldfish instead of croutons!